"La Abuelita de Hiroshima: Educación para la Paz" is the Spanish translation of Hiroshima no Obaachan, originally written in Japanese in 2005 by Dr. Kamada. It was published in 2022, following the revised edition of the Japanese (2005), English (2007), French (2018), and German translations (2020).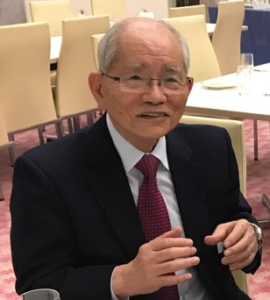 Kamada, Nanao, is a medical doctor who has treated hibakushas' diseases (A-bomb survivors' diseases) for more than half a century in Hiroshima. He is the leading expert on the aftereffects caused by atomic bombing and has been the director of Kurakake Nozomien, a special nursing home for A-bomb survivors.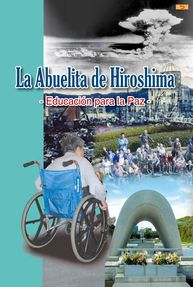 Dr. Kamada, the author of this book, believes that many people at home and abroad may know some facts about the atomic bombing of Hiroshima and Nagasaki. However, not many people worldwide know about hibakushas' present circumstances.
Dr. Kamada has figured out ways and means so that a wide range of age groups can understand the book's contents.
First, the book has three sections: 1. Past, 2. Present, 3. Future. He aims to explain how survivors have lived for decades while struggling with physical and mental difficulties since the war. Second, the book's content consists of questions and answers. The book's layout helps readers to understand its contents. The left pages of the book comprise dialogues between an older woman who was a victim of the A-bomb (the interviewee) and junior and senior high school students who visit her at a nursing home (the interviewers). The book's right pages give further explanations on the medical viewpoint for adult readers.
The appendix at the end of the book offers valuable materials. These include a chart that shows the correlation between radiation dose and its effects on the human body. It also has a suggested reading list, the museum's special services, peace declarations from successive mayors since 1947, and an introduction to the International Physicians for the Prevention of Nuclear War (IPPNW).
The appendix is written in the same language as the language used in the translated text. The appendices in the Japanese first edition (2005) and the English edition (2007) offer more detailed content than the editions in the other languages.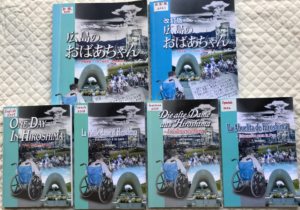 This book should be translated into more languages and appeal to the general public so that readers can access the details of the medical effects of the atomic bombing and understand them better in their mother tongues. Dr. Kamada also hopes his experiences as a medical doctor will be fully utilized for the global peace movement.
For more information, download Free E-books available in Japanese, English, French, German, and Spanish from this link:
https://www.hiroshima.med.or.jp/ippnw/books/index.html